How does the shown object point to a better world?
A view into my garden in the middle of a North Ger­man city shows a small para­dise for humans and anim­als and at the same time a con­tri­bu­tion to the green­ing of the city.
This is how I imagine a better world:
My city of the future is green: Over­grown house facades, roofs and bal­conies, trees and flower strips offer hab­it­ats for insects, birds and oth­er small anim­als. Numer­ous gar­dens, parks and green spaces form the green lungs of the city. Togeth­er they provide shade, store rain­wa­ter, improve the urb­an cli­mate and let us breathe. These oases are at the same time retreats, places of decel­er­a­tion and meet­ing places for people of all gen­er­a­tions, cul­tures and social classes. Pro­jects such as Inter­na­tion­al Gar­dens, Urb­an Garden­ing or Per­ma­cul­ture cre­ate oppor­tun­it­ies for joint action, solid­ary eco­logy on a small scale. Let us make our cit­ies green!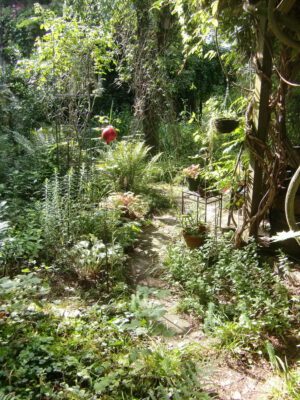 G., Göttingen